Stanley Keomaka – 2022 Einstein Award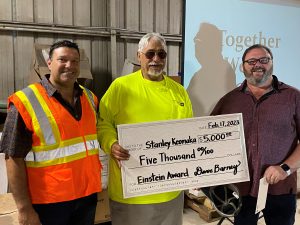 Left to right: David Gomes – President; Stanley Keomaka; Sean Haggerty – Area Manager
Stanley Keomaka has been an employee of Hawaiian Cement for 58 years. Stanley started his career with Hawaiian Cement driving ready mix trucks and is currently filling the Halawa Quarry stockpile loader operator role. In this capacity, Stanley is responsible for loading outside customers with aggregate material while providing outstanding customer service. We are nominating Stanley for the Einstein award due to his integrity and resourcefulness in creating a sellable aggregate product that meets customer demand. Stanley recognized if he equally mixed and blended four different items he could create a product meeting customer demand. What is exceptional about this task is that three of the four products are byproducts of our production process and result in a $0 value, while the fourth component is non sellable dirt found on the mine site. In short, Stanley has taken four products with no value, blended them, and made a product our customers want, resulting in 33K tons sold in 2022, adding to our annual sales revenue. Stanley, in recognition of your best of the best process improvement creativity, we are proud to present to you Knife River's 2022 Einstein Award. We are proud to employ individuals such as you, who contribute to improving Hawaiian Cement's bottom line by inventing cost-effective measures. Hoʻomaikaʻi e Stanley!
KRC 2022 4th Quarter Safety Leadership Award Winners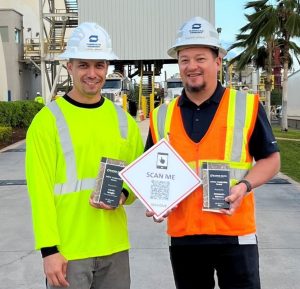 Left to right: Curtis Wright and Fernando Herrera
Congratulations are due to Fernando Herrera and Curtis Wright, the recipients of KRC's 4th Quarter Safety Leadership Award for 2022. Fernando is an Operations Supervisor at our CIP Packhouse, and Curtis is an Apprentice Terminal Operator serving on the Cement Division Safety Committee.
Fernando and Curtis were tasked with preparing and delivering a HAZCOM/GHS training session at a Cement Division Safety Dat. Using their creativity and desire to provide the training material in a new and innovative fashion, they designed and created QR codes for chemicals found in the workplace. With the QR codes made, the next step was to design and produce adhesive label, and metal signs, strategically placing them around the work center. They even made hard hat decals! Employees only need to use their smartphone to scan the QR code and are directed to the Safety Data Sheet for that chemical.
Ervin Hendricks, a Cement Division Operations Supervisor, submitted a nomination package on behalf of Fernando and Curtis. Ervin said, "in the past, if we needed information on a chemical we are going to use, for example, the required PPE needed or first aid measures, we would have to leave the field and go to the office to find the SDS Binder or use a personal computer to log on to the MSDS Online website." With this new process, employees have access to the needed SDS information right at their fingertips, making working with chemicals more effective, efficient, and, most of all, safer! They are most deserving of the recognition of being selected as Knife River's 2022 4th Quarter Safety Leadership Award winners. Mahalo nui ʻolua!